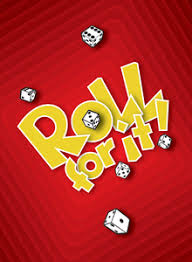 Old Town Goodies
Roll For It - Red Box
Regular price
$25.00
$0.00
Unit price
per
Number of Players: 2-4
Playing Time: 20 Minutes
Recommended Ages: 8+

Roll For It! is everything you want in a game. It's fun, it's easy, and it's fast! The rules are simple. Roll your dice, match a card, and score some points! Be careful, though—other players may challenge you for the card you're after. The first player to collect 40 points wins! Play up to four people with either the red or purple box, or combine the two to entertain up to 8 players.
Game Play
Roll For It! is easy!
Roll It! Roll your dice.
Match It! Match your dice to the Roll For It! cards in the center of the table.
Score It! When you match all the dice faces on a card with your dice, take the card and add it to your victory pile. The first player to 40 points wins!
Game Features
Fun, Fast, and Exciting: Players take turns rolling dice and trying frantically to allocate them to cards, collecting victory points and sometimes stealing cards out from under their opponents! An average game takes less than 20 minutes to play, making it the perfect game at any time.
Educational: Roll For It! combines the luck of the dice role with resource allocation. It's been used to teach scanning, decision-making, information management, and probability skills.
Portable: Roll For It!'s compact size means that it travels easily, making it the perfect game to play in restaurants, while out camping, or anytime you're on the move.  
Exceptional Value: Excellent game play, colorful dice, quality cards and an affordable price make Roll For It! an exceptional entertainment value.
---