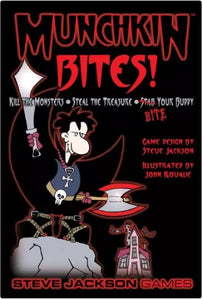 It's All Fun & Games
Munchkin Bites
Regular price
$40.00
$0.00
Unit price
per
Number of Players: 3-6
Playing Time: 60-120 Minutes
Recommended Ages: 10+
It's vampire gaming, Munchkin style!The munchkins are now vampires . . . and werewolves . . . and changelings. Bash through the haunted house and slay the monsters. The other monsters. You can't slay your fellow munchkins, but you can curse them, send foes at them, and take their stuff!
Munchkin Bites moves the fun to a haunted house full of angst and overacting . . . it's the world of Dorkness!
Of course, you can mix Munchkin Bites with any – or all – of the other Munchkin games.
Includes a special Munchkin die!
---